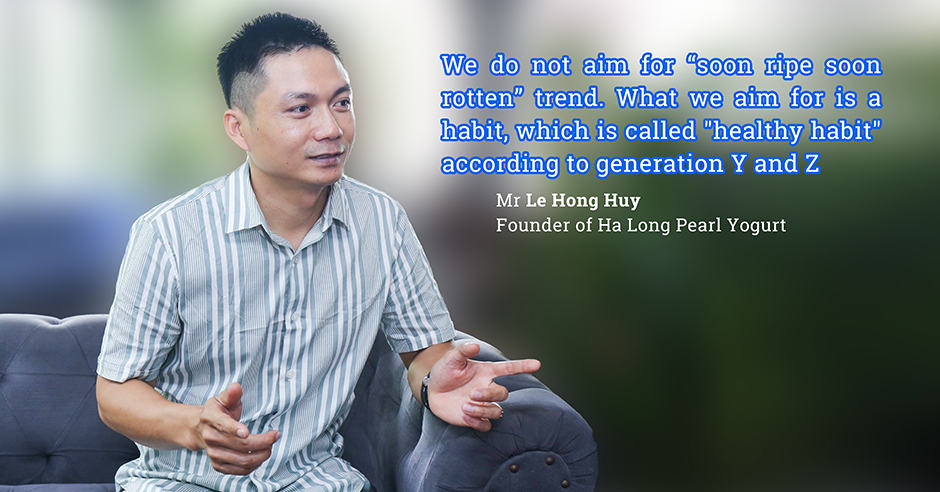 The Vietnamese F&B industry is considered to be an attractive business; however, it has been witnessing a large "purge" from the market when being affected by Covid-19 epidemic, along with a rapid change in consumer habits.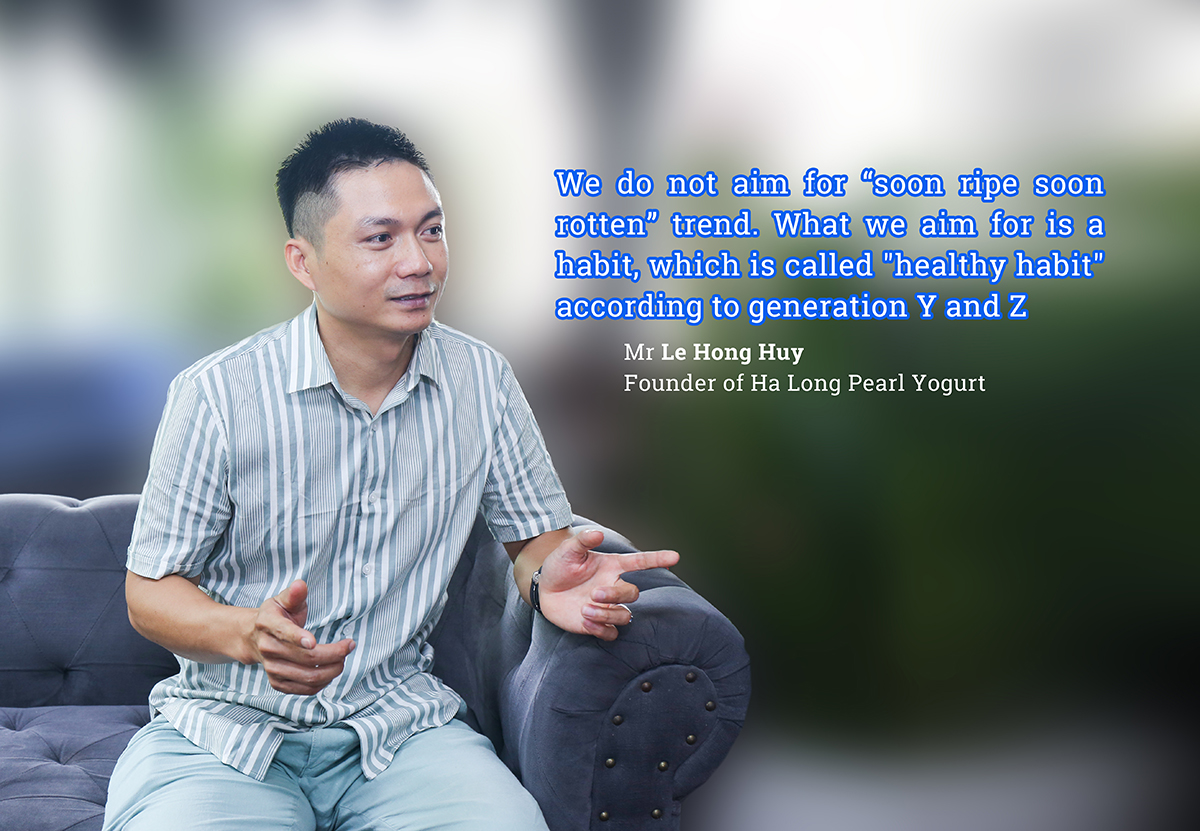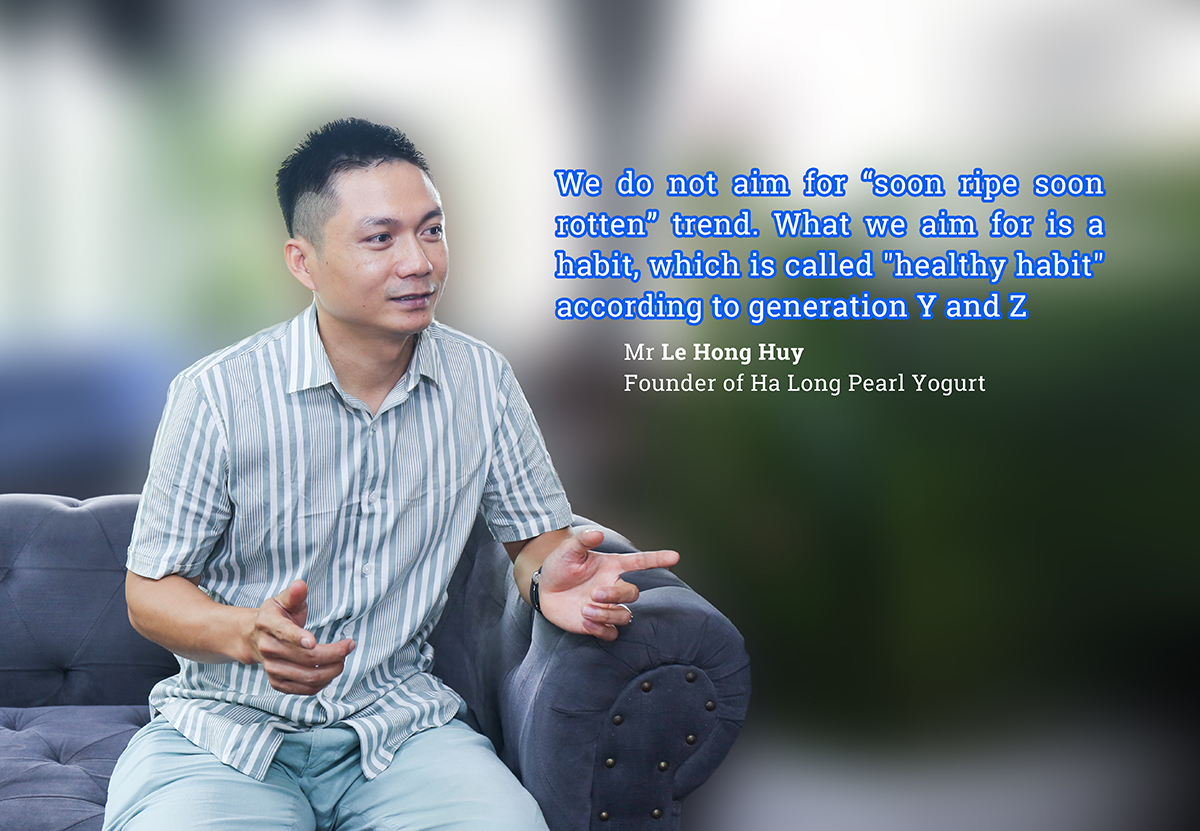 Research shows that only when a brand solves the task of management and operation can it exist and develop in this situation.
Being known as a popular trend of refresher drink among young people and families in this summer, despite Covid-19 situation, Ha Long Pearl Yogurt is one of the few brands that is still expanding rapidly, with more than 100 store nationwide after only 9 months. What has this brand done to solve the task of management and operation to develop a strong and sustainable chain? Let's have a conversation with Mr. Le Hong Huy – Founder of Ha Long Pearl Yogurt brand to get a better understanding about this
Sir, there have been many trends such as lemon tea, milk tea, which sprang up like mushrooms in just a short time, and then closed down quickly. Whether or not Ha Long Pearl Yogurt is just a "sensation" that will gradually cool down after time?
We do not aim for "soon ripe soon rotten" trend. What we aim for is a habit/tendency. According to our research, the eating habit of Vietnamese people in general, Gen Y and Gen Z generation in particular, is gradually shifting to a healthier way that young people often call "eating healthy".
With many years of working experience in F&B industry, as well as has owned a relatively successful F&B brand chain before, my team and I understand that the sustainability depends on many factors. At the time when we came up the idea, we considered the task of quality assurance, human resource management and revenue of the chain.
It is known that Ha Long Pearl Yogurt has more than 100 branches in Vietnam, with different locations and investors. How to assure the quality of each product for the store chain?
It is not only about maintaining the whole system, but also making a difference in the quality of the product line compared to other competitors. As the franchise model with reasonable price and basic dishes with low prices, it is easy to be copied by the competitors. At Ha Long Pearl Yogurt, we manufacture products that follow factory process to ensure each batch of yogurt is fermented, then transferred to facilities and delivered to consumers with the best quality.
Raw materials are 100% used in Vietnam with closed loop production. On average, each cup of our yogurt has up to 2 billion beneficial bacteria, with balance flavor between sweetness and moderate sourness that suits the taste of Vietnamese people. Therefore, when eating our genuine pearl yogurt product, customers will also notice a difference in their unique aroma and taste compared to other stores.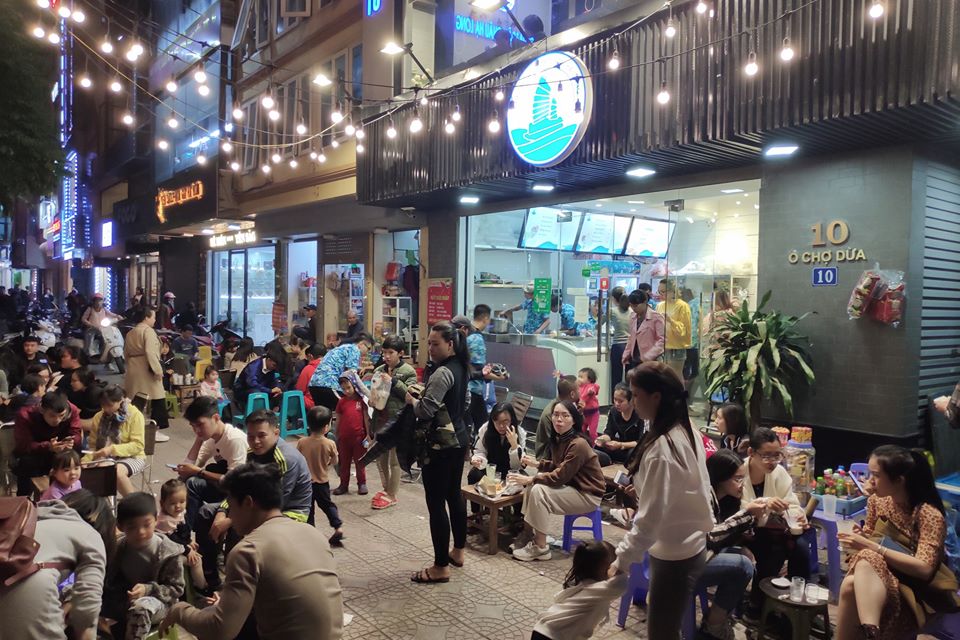 Along with setting goal of expanding 200 branches nationwide in 2020, as well as developing rapidly with such a spread scale, how would Ha Long Pearl Yogurt solve the task of human resource and revenue management to avoid losses?
About human resource management, we train branch owners about staff management. In case an owner needs support in management, we also have a team that is always ready to assist the management for each store.
About supporting tool, there is no doubt that every large brand chain in F&B industry uses technology to operate the system. From the beginning, we looked for F&B store management solutions and now we are currently using the MISA CUKCUK store management software system. With this software, I can track visually the sales of each store or in all system, compared this month to the previous month.
In every day, every week, there are specific figures and detailed graphs. Therefore, the management team and I can grasp the revenue fluctuations through this application on a smart phone. If a problem occurs at any store, recognizing the negative trend, we will have a strategy to support investors in time.
Why did you choose MISA CUKCUK but not another one?
We chose this software because of its easy-to-use interface and simple operation. This helps Ha Long Pearl Yogurt employees to learn and perform their business quickly, ensuring our customers do not need to wait in long lines, to experience the best service at the stores.
In addition, this software is also integrated directly with MISA accounting software which we are using, so that when fluctuations occurs in revenue, they will be recorded, accounted directly into the software at once, saving maximum time for accountants and also reduce mistakes and errors significantly in reporting.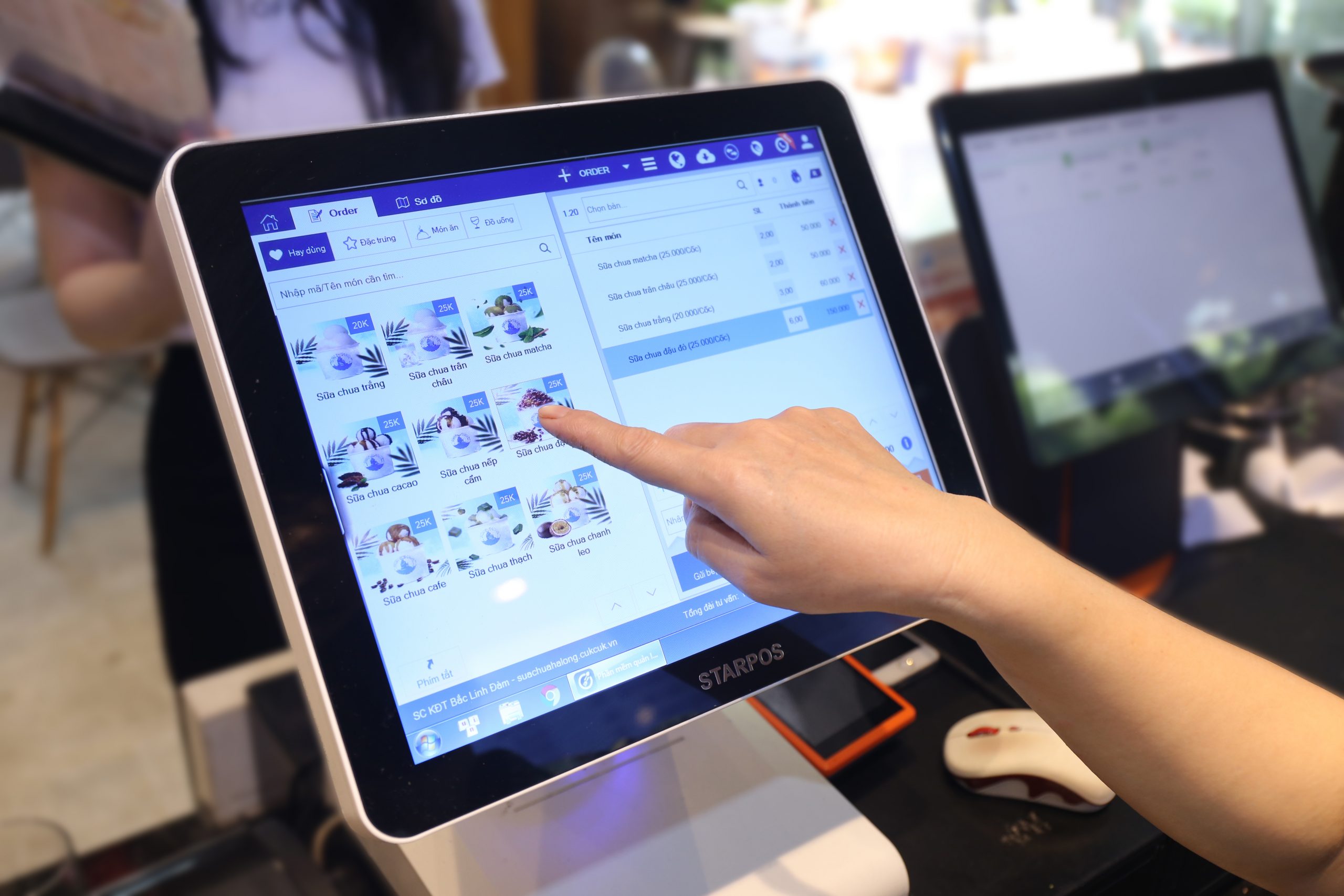 Can you give an overall assessment of the role of technology in F&B?
The application of technology in F&B brand development is expected to become an inevitable trend to catch up with changes in people's daily consumption habits.
The world has utilized technology to increase the experience for customers such as using robots to serve, order by voice, order food and receive notifications via mobile applications …
In Vietnam, I think that every business and establishment would need technology in operation and management. Using technology from the beginning will not take time to get acquainted and transfer from human to machine, saving much more resources.
Source:cafebiz.vn